Larry R Wagner
Photographer/Photo Artist
Larry Wagner became a professional photographer and photo artist in 2004, a role he had been preparing for all of his life. He has always loved art and photography, visiting museums, reading photography and art books, taking photos, and observing the world as an endless kaleidoscope of images. He is fascinated with the power of image manipulation offered by the graphic capabilities of the computer. He combined his thirst for learning, computer skills, discipline, patience, love of people and a talented eye and editing skill into becoming a notable and sought after photographer/photo artist.
Where Larry Exhibits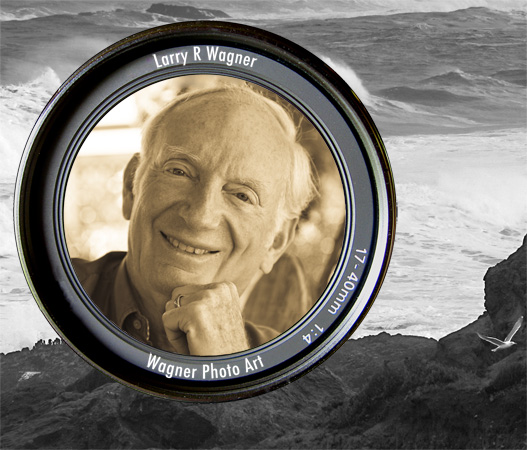 He was a founder of the Mendocino Coast Guild and Gallery and a guest artist for six months at Edgewater Gallery. His work has been displayed at the William Zimmer Gallery, Mendocino Art Center and Glass Fire Gallery.
He currently has his photo art displayed at Edward Jones office and Beachcomber Motel in Fort Bragg and has commissioned work at the Brewery Gulch Inn and the Lula Winery tasting room. His stunning prints on aluminum are carried exclusively by Highlight Gallery in Mendocino. He has a selection of images at Point Cabrillo Light House. He will have a two month show at Savings Bank of Mendocino in Fort Bragg.
Accomplishments
Larry published two volumes of Artists of the Mendocino Coast, Mendocino Art Center's 50th Anniversary Exotic Calendar, Circus MeCCA's 2011 Calendar, and Mendocino County Mobile Memento, the photo chronicle of the creation of the Skunk Train's Art Car. His most famous photo is the Fort Bragg 70-ton Blue Whale beaching, an image picked up by the Associated Press and sent around the world.
Broad Interests
He has extensive work in Mendocino Art Center's Arts Magazine, does most of the head shots and publicity photos for Mendocino Theatre Company, Gloriana Musical Theater, and the Mendocino Chamber Opera. He also is the photographer for Lewis and Summers Public Relations, his work displayed in many of the Mendocino Coast District Hospital publications and advertisements.
Labors of Love
He specializes in people photography for private clients, producing photo books for weddings, anniversaries, and reunions as well as portraits of individuals and families (including pets). He is currently working on a major collection of glamour art works, honoring the beautiful women of the Mendocino coast area. He is also creating a book, The Making of Sundays, about Fog Line Productions filming of the dramatic series for the web. He is the stills photographer for Sundays.